Q Life Settlements Blog
Choose a Life Settlement and live with financial freedom.
August 1, 2021
Life insurance policies are a valuable asset. Like any asset, they can be sold when they no longer serve the needs of their policy owner.
Reasons for selling a policy are numerous and varied – the policy premiums may have become too expensive, the death benefit may no longer be necessary to cover anticipated expenses, or perhaps the owner may simply have current needs that outweigh the future worth of their policy's death benefit.
But have you ever considered that market conditions, like those influencing the insurance market itself, should factor into your decision-making when evaluating the relative 'worth' of your life insurance?
It should, and here's why – the value of your own life insurance policy increases as overall life expectancy decreases among everyone in the insurance pool.
This is vitally important to understand, because recently there have been a number of news articles focused on the impact of COVID-19 on life expectancy. Here are just two examples:
The Washington Post
The NY Times
Here's more evidence of the downward trend in life expectancy driven by the singular market force of the COVID-19 pandemic: The National Center for Health Statistics, National Vital Statistics System, recently reported the 2020 "Provisional expectations of life, by age, race, and sex."
The report concluded that overall life expectancy dropped in the U.S. by about 1.5 years, with the major negative impact resulting in the decrease being attributed to COVID-19. The report has many details about the impacts, positive and negative, on life expectancy by gender and race and for various age groups. The complete article is available at the CDC website.
The summary table of the results is below: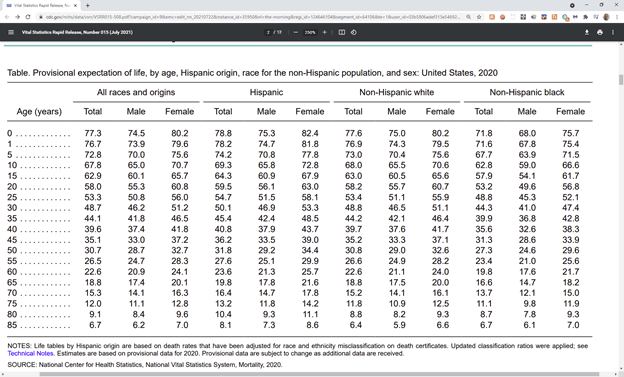 Here are some other important statistics – in the life settlement market, most policy sellers range in age from 70 to 85. As outlined in the table above, the average life expectancy in the U.S. (regardless of gender) at age 70 is 15.3 years; age 75 is 12.0 years; age 80 is 9.1 years; and age 85 is 6.7 years.
These figures are the averages for all people living in the U.S. at those ages.
The bottom line is that if you are considering selling your life insurance policy now, or in the near future, it could be worth more than it might have been in pre-COVID years – an essential consideration as you evaluate your personal financial situation.
If you're interested in receiving a quick and easy estimate on the potential value of your policy, get an 'instant' quote directly from our online calculator page!
For more information, please call 866-679-9410 or email us at info@qlifesettlements.com.